My daughter loves potatoes, I mean anything potatoes she will devour to her heart's content. My husband loves tex-mex dishes. Sometimes I think he can live with only these. I acquired the taste because of him but I can't say I am a true-blue fan. I like taco salad from Mexicali alright. Several weeks back my daughter and I had lunch at
Taco Bell
which offers Mexican quick orders as the world knows.
We had two orders of Meal C from their combination meals. It consists of fiesta rice topped with flavored ground beef, diced tomatoes and onions, potato bites with cheese dip, and fiesta salsa salad. It was very filling.
I had nacho supreme for my dessert. They come with beans, cheese sauce, ground beef, tomatoes and onion. The corn chips are so crunchy. I love it!
Like what I have mentioned, my daughter loves potatoes so she had this, potato balls with sour cream, cheese sauce and onions. This is a lot better than french fries.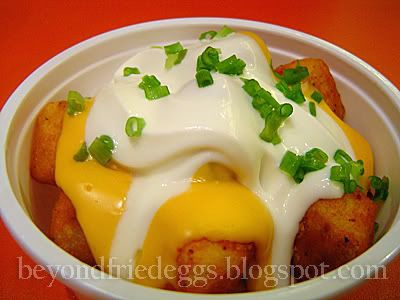 You may visit
here
for more snapshots. I shared the
Filipino Mom Blog's
weekend holiday party at
The Mommy Zone
. And take a peek on an empty gym at
Everything and then Some.....