The change in weather caused the sniffles I've had since last week. It's still a bad cold. Not getting enough rest aggravated my low resistance to virus. Coughing ensued. I listened to my body so I cut down on other activities. I did not drop by the gym this week to use the time to rest. I thought I'm covered but I have developed a sore throat caused by eating too much chocolate.
Life is fair. I am on a forced diet since I can't eat much to compensate for my absence in the gym.
But before the nasty sore throat I craved for the moist chocolate cake from Conti's last week so my husband bought a whole cake. Three days after I had all these chocolates. Chocolate overload.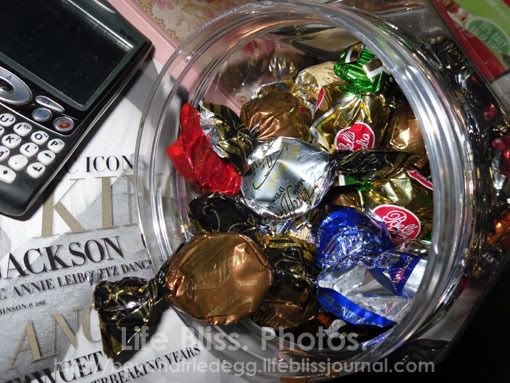 Don't mind the magazine in the background. I always have an MJ magazine with me and I browse when I am home whenever the feeling hits me.
Anyway, I love most of the chocolates in this jar. My favorite is Swiss Delice Rotondini. It tastes almost the same as
Lindor Truffles
, my favorite chocolate in the world.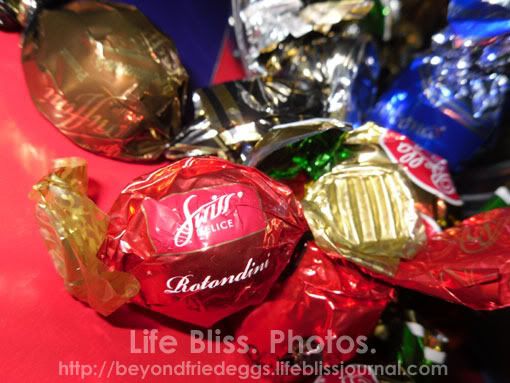 The jar containing 2 pounds worth of chocolates is still half-full. My sore throat prevents me from taking even a tiny bite a day. My daughter is NOT a chocolate lover and I'm happy about that. My husband is so-so. I devour all the chocolates in the house you see.
Thanks to my mom for including this in one of their packages. It's
Kirkland Signature, Chocolates of the World
. I love it!
Picture from Vita Springs website.
***More food sharing at

Picture Clusters

and

Food Trip Friday

.