All pictures below were taken from my
"cooking" post
for Photo Hunt many entries ago. I was not able to chance upon any street hawkers selling my favorite fish balls or kikiam or banana cue. I opted to use what I already have.
Photo Hunt
participants are mostly from the west. Apparently they took squid balls literally, like "balls of squid". Some comments mentioned they cannot bring themselves to eat this even if they are very adventurous when it comes to food. Short of saying this is really yucky.
I have to actually add this to my post to make it clear what squid balls are.
Squidballs are made of squid meat wrapped in flour and egg for some, a little of salt and some spices. This is the generic way to do it but click here for some Chinese Squidballs recipe if anyone's interested.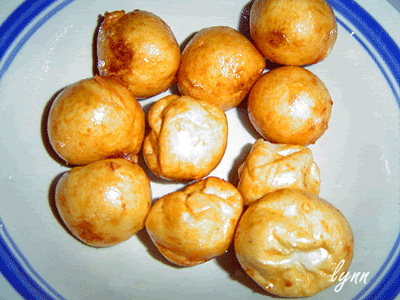 ***More street foods at

Lasang Pinoy, Sundays

.