We have church activities every night for this week. I took advantage of this feeding my soul and feeding my craving for pan de sal. It has been a long time since I had some, pan de sal, that is. Good thing Pan de Manila is on our way home.
For four nights already since Monday, we are regular customers of the bakery. The store servers already know us, as well as the parking attendant (the "barker" in other words).
The brick oven is said to taste better because it preserves and seals in the aroma of the dough. I have to say this is true. I was in the food industry for so many years. There are a lot of factors for a crust to be able to hold the heat. But talking about ovens, crusts were crunchier when the company was still using brick oven. It holds the heat longer compared to the automated oven that replaced it.
Customers can actually watch how the bakers load and unload doughs as the oven can be seen from the glass panel.
The doughs are ready for loading. I wonder how many minutes they stay there. This area is near the entrance and it's along the road - dusts and all. The heat inside the oven takes care of all the foreign bodies I suppose. :)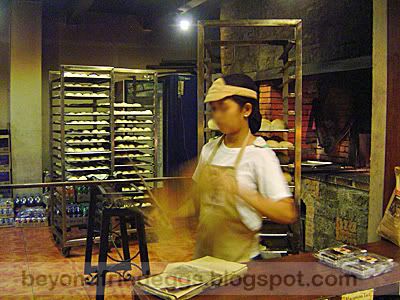 I have not tried all the other breads they offer. Next time maybe.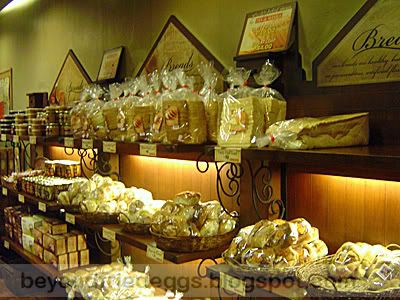 We tried their garlic butter and peanut butter. We bought the smallest bottles just to check if we will like the taste. We love them both! Garlic butter has parsley which adds to its flavorful aroma. It's more expensive than the peanut butter though.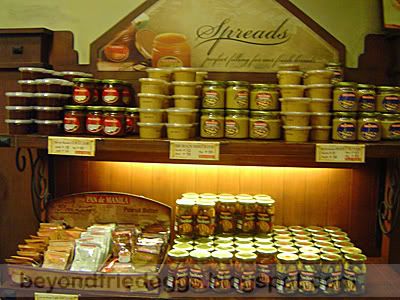 My daughter loves the peanut butter! For three straight days, she brings peanut butter sandwich to school. Normally she tires of food easily.
We already consumed three bottles for four nights. The biggest bottle which we bought on Wednesday night will seem to last till today, Friday.
Our favorite peanut butter is
Skippy
and this one from Pan de Manila tastes as good. Creamy and the sweetness is just about right. You won't cringe from too much sweetness. My husband does not want peanut butter to be refrigerated. He wants them on room temperature for easier spreading. It's tastier that way too, a little melted.
As for pandesal, they are good while still hot which is about ten to fifteen minutes from the time we buy them. They come in two sizes, small and big. I'm alright with the taste but my husband is looking for the crunch in the pan de sal's crust.
Aside from the peanut butter, all of us love their Chocolate con Leche! According to its packaging, they use muscovado sugar. Aside from bringing back the feel of the old Manila (just look at their paper bag), they also adhere to all natural ingredients, no preservatices, which most of us, consumers, prefer.
Pan de Manila as I see it is successful in bringing all complementing products in one store, open for 24 hours, and adding in other product innovations - pan de ube, pesto and cheese bread, pesto wheat loaf, etcetera. The people manning the bakery are nice too, at least in the branch near our place. They have ready smiles, neat and very accommodating.
Have a feast on other
Food Friday
entries. Happy weekend! TGIF! :)