I am always in search of a different restaurant where my family and I can visit. I searched the web last night for a good restaurant we can go to which is just near our place. Our original choice was a casual-dining pasta house just a few minutes drive from our house but it closed shop already.
I landed at
spot.ph
and
Adarna Food and Culture
captured my attention. Interesting.
The restaurant will let you travel back in time, circa 1960s. It is a visual feast for people like me and my husband who love to experience themed restaurants. I recounted on my other blog,
Life Bliss
, the interior of the restaurant.
My husband was supposed to order the pandan rice but I was intrigued with the Yellow Batanes Rice. It has turmeric, garlic and bits of pork. We ordered the family serving which is good for five persons. The serving is quite big as we had to take home the left-over still good for one person. (Hubby consumed it for dinner tonight, still good after reheating.)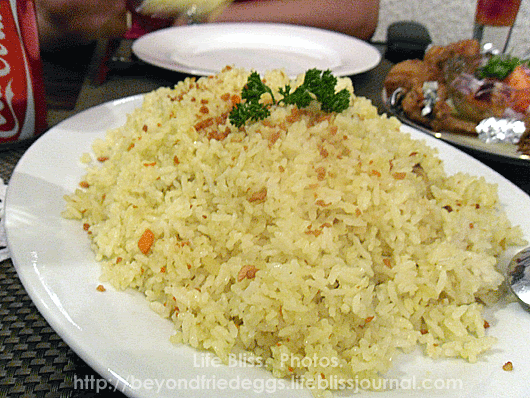 Yellow Batanes Rice, P150 (Family), Rating: 5 stars out of 5 stars
We had to play it safe as my daughter is a bit choosy with her food. She ordered the Victory Joe Chicken Wings with Fresh Tomato Salsa. She loves it! We all do. It's a bit pricey at P300+ but it tastes good. Very crispy with a creamy, buttery taste. My husband and I love the salsa. It's around six to seven pieces if I remember it right.

Victory Joe Wings with Tomato Salsa, P392, Rating: 5 stars out of 5 stars
We want fish too so we opted for the tried and tested rellenong bangus, single serving. Achara goes with it. My husband wanted ketchup with it but we did not ask the server anymore. We just tried it as it is.
I was not happy with it because there's a bit of an aftertaste, malansa in the vernacular. We actually did not get to eat much of this.

Rellenong Bangus (Stuffed Milkfish), P175, Rating: 2 stars out of 5 stars

Atchara
My husband and I wanted to try this beef menu because we both love coconut cream. Piassok is a dish from Sulu - beef is buttered, cooked in coconut cream with spices. It's very tender. Husband love it, I like it. The only thing that keeps me from saying I love it is the burnt after taste. There are even burnt portions of the beef as it was served to us. We also had to take home our left over. It proved to be better tonight when we reheated it.

Piassok, P335, Rating: 3 stars over 5 stars
The customer service is great. The food servers are very warm and very neat. Serving time is a bit long most probably because food are cooked as they are ordered. That's fine as long as you are not that hungry going to the restaurant.
Overall, our experiene at Adarna Food and Culture is very good. We will be back again to try the other dishes.