I was reading Yummy magazine and there was a mention of Mary Grace's chocolate cake. The photo was just so appetizing. I suddenly had a craving for it. I love the cafe's brownies and cheese rolls but haven't had their cakes yet.
That's what prompted me and my daughter to have a snack at
Cafe Mary Grace
when we were at Trinoma a few weekends ago. The cafe is small, cozy and inviting. The lighting sets the mood as well as the interior. Country style if I may say. The service is quite fast or maybe one won't really notice a few minutes has passed because one tends to read the messages neatly laid out on the table. They are messages of appreciation from the customers. Isn't that nice?
I took pictures of my daughter too while waiting for our food. This was right in front of the mirror. My baby's a big girl already, sigh. :D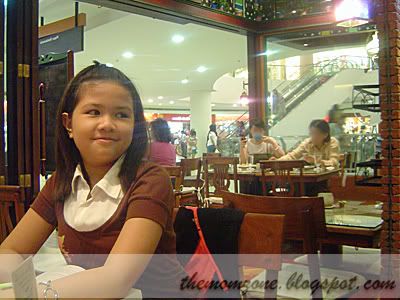 I had my coffee alright to go with the cake.
Oh yes, the chocolate cake is divine. I don't use this word much as most chocolate cakes taste the same and more often than not, I just get disappointed. But this one, it has the right moist and its sweetness is just right for my taste. The filling does not drown the chocolate feel and flavor. I'll have this anytime.
My daughter likes the cafe's rich and smooth hot chocolate. I like the colorful cup and saucer as well.
My daughter had her pasta vongole. It's a little watery. I'm not sure if it's the clams or the noodles were not drained well. It's good nonetheless.
We are going back here for more that's for sure. :)