As a family, we love to do what most families do and that is, eat out. It's a simple activity that we enjoy since it is also a great time to bond. Having a taste of each other's food even if you've had a taste of it a hundred times before is still a staple when we dine out. My husband is the more adventurous one in trying different kinds of food. Me, not much though exploring different cuisines and different restaurants excite me too.
One of our usual eat out is at
Super Bowl
. I love their Yang Chow fried rice and their bestseller, fried crispy chicken. I think it's honey cured, it has separate seasoning of salt and soy sauce(?). Well, among other things that's what I usually have when we go there.
There's hustle and bustle inside the restaurant and usually, people are quite sensitive enough not to linger knowing that there are other customers waiting outside. What the restaurant management can improve on maybe is the lighting inside. Sometimes it looks too dark and cleanliness can still be improved. Also, their customer service is deteriorating. It used to be that they greet each customer warmly with something like "super evening s', m'". It's something new at least. The crews were very accommodating. Lately, I cannot say the same thing. Once, the service crew even asked us if it's okay to wait for another few minutes since the family next to us is bigger and they can use up the just vacated long table. Excuse me? We were waiting for like twenty minutes and now we're gonna have to wait again? Also, it used to be that they were very sensitive to serving time or waiting time. The last time we were there on December, our food took thirty minutes to be served, and there was no complimentary pica-pica (it's like a chicharon) which you can consume and not mind the time somehow. Well, we were served one but I have to ask.
Anyway, they serve good food. But definitely, excellent service is the name of the game in the very competitive food industry. I should know, I came from one.
Now comes the posting of the photos I took. I love doing this. Taking pictures of just about anything, food especially.

I haven't taken any decent picture of Yang Chow.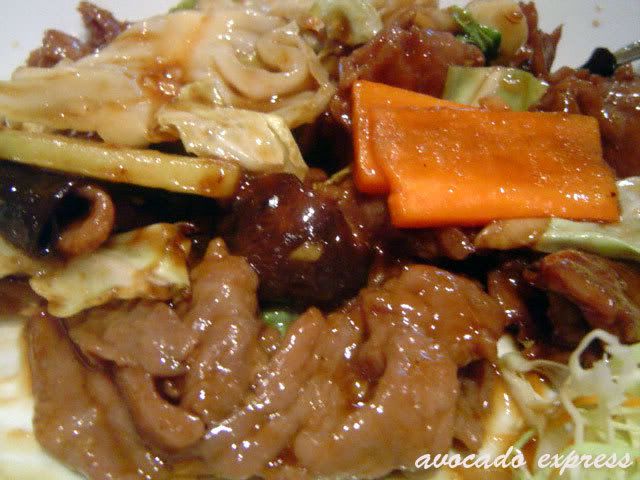 I think this is Honey Glazed Pork Ribs



I love how this looks.