It was a rainy Father's Day last June 19 but we still opted to have our dinner at The Old Spaghetti House, Ayala-Technohub. This was actually our daughter's choice because she loves their dessert, the colossal chocolate chip cookie. I love it too the first time I had a taste of it. I had to refrain from having a few spoons this time.
The hubs ordered for seafood alfredo but halfway through it, I asked if we can exchange food. I was not pretty happy with spaghetti pesto with grilled chicken. I want a creamier pasta.
Seafood Alfredo, P195

Spaghetti Pesto with Grilled Chicken, P160.
I wanted it whole wheat but they do not have stock. I was a bit disappointed with that to think it was in their menu.

I love the restaurant's coffee. For some reason I was served with brown sugar which I prefer actually. The other week when we visited TOSH at Paseo Center in Sta. Rosa, Laguna, I had to ask for brown sugar. So, did the food server read my mind that particular night? Haha.
Brewed Coffee, P60
Daughter had her carbonara, her all-time favorite.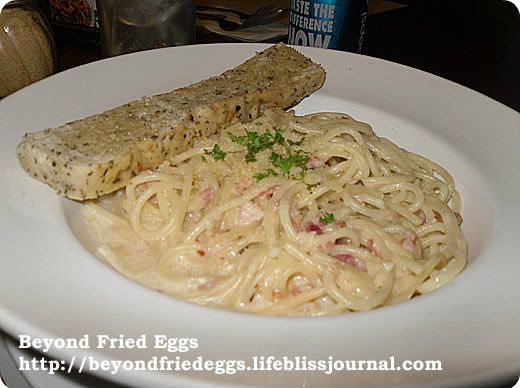 Carbonara, P145

And finally, my daughter's current favorite dessert...
Colossal Choco Chip Cookie Ala Mode, P120

***More food sharing at

Picture Clusters

and

Food Trip Friday

.