This is a very rainy weekend as reported by the weather bureau last night. We had soup the past days so we want something else. At least for us, the next best thing during a cold, rainy day would be stir fry.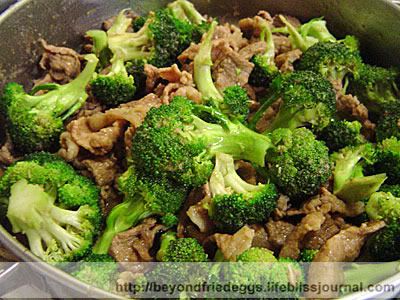 Again I am not an expert in the kitchen but this passed the taste of my family. I cooked this from what I remember the last time I prepared this dish which was a few months ago.
Beef and Broccoli Stir Fry
1 big head of broccoli
1 kilo of beef
10 cloves garlic (we all love garlic in the house so we put in quite a lot)
2-3 tablespoons oyster sauce
1 tablespoon soy sauce
salt, pepper and sugar to taste (sugar is optional)
Wash beef and cut into thin strips. Size and how thin, your call. I tenderized the beef for easier cooking. Wash broccoli and cut into sections.
Heat about 3 tablespoons of oil in a pan, saute garlic. Add beef strips until seared and pour in oyster and soy sauce plus broccoli. Add salt, pepper, sugar according to taste. Check broccoli's texture. We want it crunchy.
A good lunch while it was raining cats and dogs outside.
***Feast on more food at

Lasang Pinoy, Sundays

.