My daughter and I watched How to Train Your Dragon a few nights ago. We both had fun watching it. It's the kind of film both adults and children will enjoy. We did not have dinner before seeing it because it was almost the preview time when we bought the tickets. We only had our share of popcorn and iced tea inside the theater.
She craved for her favorite chicken cheese roll (breaded chicken rolled with cheese and vegetables) from Kimono Ken as soon as the movie was done.
I am on a diet so I skipped rice and just had one piece of sakana-fry (crispy fried cream dory with tartar sauce).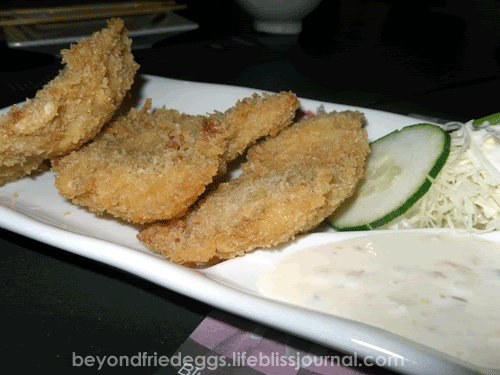 Hubby had an appointment earlier so he just followed us at the restaurant. As usual, he ordered kani salad. This kani salad has a lot of greens compared to most kani salads from other dining places.
Good movie, nice light dinner and we're off to a looong weekend. Nice. :)
***More food sharing at

Picture Clusters

and

Food Trip Friday

.