Okay, I'm really at a lost if I will just incorporate my posts about food in my
Life Bliss
blog. Food is bliss you know. And I'd like to account eat-outs also with family and friends. But then again, I need to compartmentalize.
I guess I'll be reviving this blog and will look for a template for
Life Bliss
which will showcase my food blog and
fitness blog
.
I plan to monitize all my blogs too but first I need to constantly update them. Haha. This is me...just when I am getting all really occupied with my work and with household matters and daughter's summer activities/idiosyncracies, I have this urge to be active in blogging. It's my nature I guess. I need to have them all. Is that bad?
Enough of thinking out loud.
For this weeks food meme,
Food Friday
and
Food Trip Friday
, I'd like to share what we have consumed, or half consumed as the servings are good for two persons (maybe 3). After my daughter's graduation yesterday, the three of us trooped to
Chili's
for our dinner.
We ordered Texas Cheese Fries for starters. It was good. I was wary because it might be too spicy for my taste since it has jalapeno and chili. Surprisingly it's not as spicy as I thought it would be. All of us like it. It's filled with cheese and has a generous amount of bacon.
Texas Cheese Fries, P385
Of course I ordered pasta. Yummy! It's creamy! I don't know how they do that, creamy but the cream or sauce are not really visible. It's like the cream/sauce is absorbed by the noodles and you feel and taste it once you take a bite.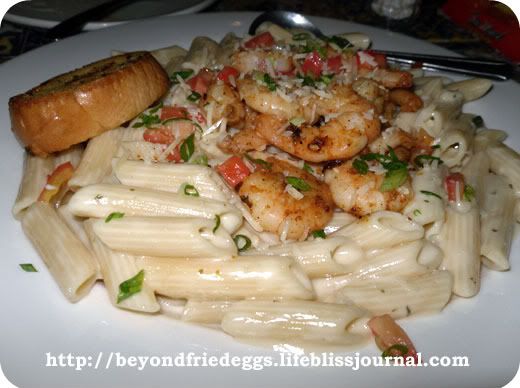 Grilled Shrimp Alfredo Pasta, P525
My husband got himself pork chops and smothered it with Lea & Perrins. He loves it. I do too. In fact I reheated our take home left-over, brown bagged it, and munched on the grilled pork for my lunch...late, late lunch today.
I like the cajun rice that go with the pork chops. I already checked how it's done and one of these weekends I'll do that. I wonder how that will taste if I use brown rice. Maybe not much difference.
Grilled Pork Chops, P440
There are times I feel like begging to my daughter to please change her menu. It's chicken tenders again...well, for Chili's it's crispers so this won't count as it's the same old chicken which my daughter always order. Nahh, what's in a name. It's the same thing. Anyway, I guess she's just like me, not adventurous when it comes to food unlike her Daddy.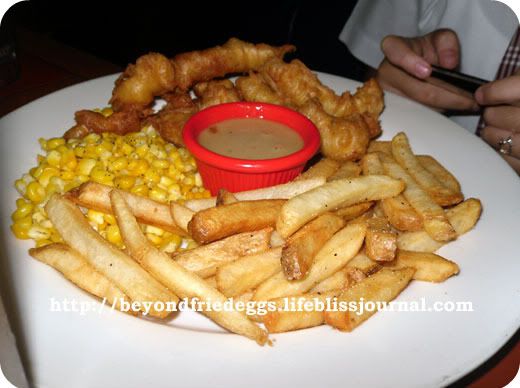 Chicken Crispers, P300
For dessert, my daughter chose Oreo Chocolate Sundae. It's all hers. I'm not into ice cream especially something as loaded with sweets like this.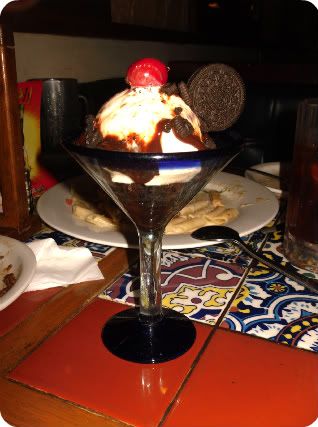 Oreo Chocolate Sundae, P195
Service is good, it's fast compared to other fast casual restaurants. There were only two occupied tables in the non-smoking area where we were in but the speed of service and attentiveness of food servers are still commendable. The place is clean and so is the rest room. It just needs a little more air freshener. No, it doesn't smell. It just have to have one methinks.
Value for money? It's expensive but it's a lot better than one Italian restaurant. The food at Chili's tastes really great!
Chili's
199 Tomas Morato Ave., cor. Scout Fernandez Quezon City
Average Check: P400-P500
***More food sharing at

Picture Clusters

and

Food Trip Friday

.