Do you sometimes have a craving for your trusty neighborhood food? The food you grew up with or at least somewhat similar? I do.
This pizza store I see around the area where I live has intrigued me because its name seemed to have been inspired by the pizza chain I used to be a part of. I went there with my husband and tried to see what they have to offer. I was not disappointed.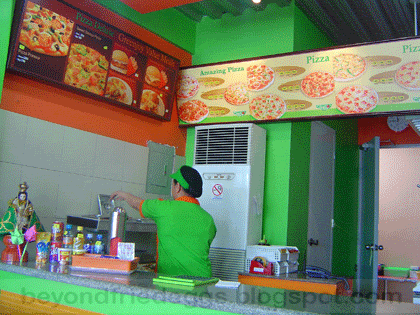 The store is clean and well-lit. The all-around person manning the store is polite and very accommodating.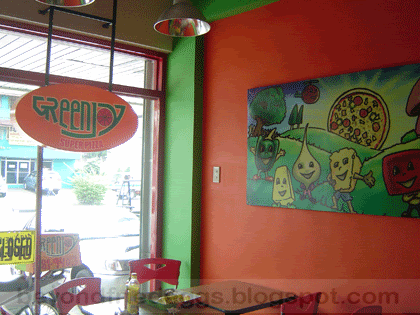 The colors are really eye-catching - a combination of green and orange - who would miss this? The logo is decent enough.
Even the packaging is quite dainty, the printing is of good quality. See the hot sauce? I have to prick with a toothpick whenever I encounter sauces packed in plastic tubes, like the sauces for siopao (though most come now in sachets).
And most of all they are serving a no-frills pizza which I really like. I remember the pizza I used to buy from the school cafeteria - ham and cheese and mushroom and it's good to go straight to my stomach. I remember this pizza is called pizza delight. My boyfriend (now my husband) and I frequently order this pizza flavor back in college.
Surprisingly, the crust is very crunchy even if a good twenty or so minutes have elapsed from their store to my house. I didn't see the kind of oven they are using. Truth is I find pizzas cooked in portable ovens crunchier than those in conveyor ovens.
Anyway, the burger is good too - it's like a homemade burger that is just juicy. I believe I will be a frequent visitor of this neighborhood pizza store.
***Feast on more food at

Food Friday

.