One of the restaurants we frequent when we go to Bonifacio High Street is Clawdaddy. It's always full especially at night but we patiently wait for our table. My daughter usually sits on the grass and reads her book while us, her parents, stay at the waiting area.
You can go people watching while outside since the place is packed with people - hurried and looking busy with their notebooks hanging on their shoulders, families having a good time, kids playing, young couples strolling - yes, HHWW, haha, cute! There are group of friends with their fresh smiles and hearty laughs, the young at hearts probably having quick dinner and lots of shopping. I don't get impatient waiting in this case because I love observing people.
Anyway it was a trip to Clawdaddy again and we gave in to our seafood craving and some more. Corn is a good appetizer for me but then I could have this anytime while having the main course. I just want them with lots of butter.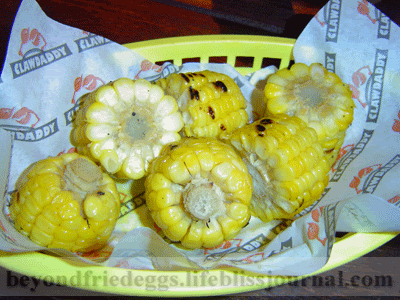 My husband's favorite, caesar salad. What I love is the herb crouton and the crispy bacon that go with the greens.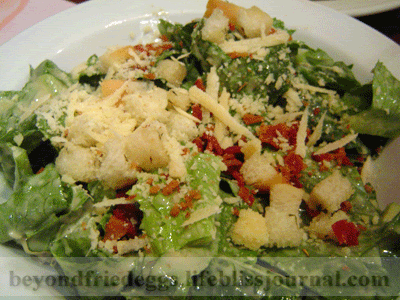 Cream-based soup with cheddar cheese which makes it creamier is tops to my daughter.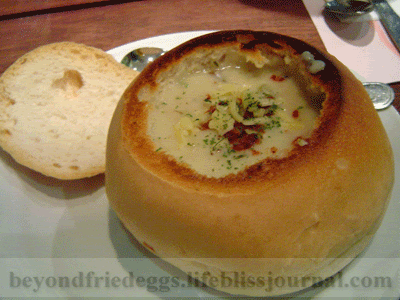 It's not my daughter who fancies the car that holds the chicken fingers with rice crispies. It's my husband. He collects them if I may share that.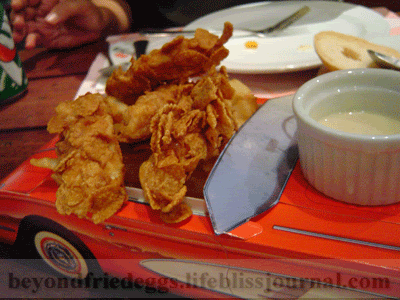 The plain white rice that goes with the chargrilled beef ribs is for the crab and seafood boil. I am not really into grilled foods. I had a few bites of this one and it's very tender.
This doesn't look good in the picture but it's full of what is says, seafood (crab, lobster, clams, prawns, mussels) and a sausage plus baby potatoes. Yes, there's watermelon to quench your thirst after devouring all these food. :) Burp! Excuse me.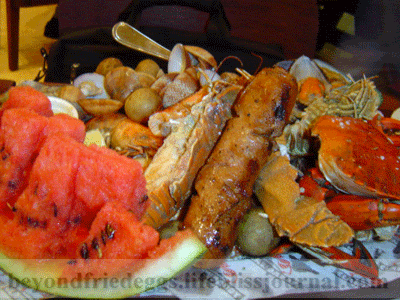 It's back to reality today after an almost week long vacation for the Holy Week. The daily grind starts again. I've learned to be more appreciative of the blessings that come our way. Here's wishing everyone a bountiful week ahead!
***More sharing of snapshots at

WS

.