I prefer to have my ice cream just plain. I am not fond of toppings even if they are chocolate toppings like M&M or truffle. I have to agree though that fancy ice creams are great come on specially for children.
My daughter loves this dessert from Tender Bob's, mud bowl - chocolate ice cream with whipped cream and cherry on top, chocolate syrup, M&M, gummy bears and candy sprinkles all over.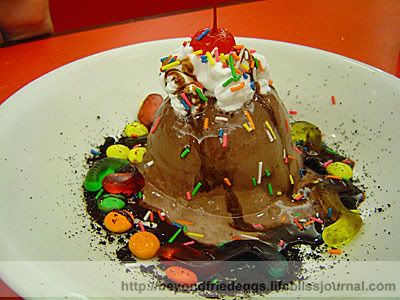 She prepared the ice cream posted below at home. As for me I prefer drizzling my ice cream with
Hershey's Shell Topping
which freezes in a second. Yum! Super chocolatey flavor!
***See more sprinkles at

Lasang Pinoy, Sundays

.