My dinner last night and hubby's was this - wheat bread, tuna with lettuce, tomatoes and cucumber. He wanted it with carrots but unfortunately, there's no more in the ref.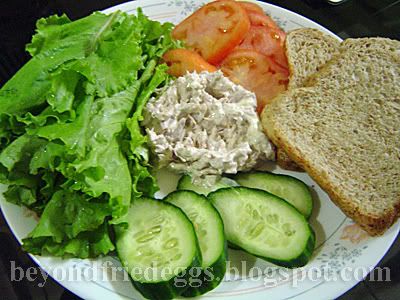 Wheat bread expires today so I thought of having some for breakfast and bring along the last two pieces with me. I made myself an egg-mayo sandwich, mayonnaise of the lite kind. This served as my lunch and my share for this week's lunch box meme of the
Filipino Mom Blog
.
By the way, let me also share a good find -
TakeAlongs from Rubbermaid
. I love this as it is very flexible - microwave and freezer safe. They have just been taking space in my storage area from the time my mom sent them to me which was about two years ago. I have said that I am not into cooking nor preparing food before so I was not really aware of which is best for what - the different kinds of pots, pans, food storage...even the cutlery. Most of them were sent by my mother. Some my husband bought since he loves to cook even then.
I started making use of the TakeAlongs early last year when I ran out of sandwich bag for my daughter. I get to save a few pesos since I don't frequently use sandwich bag anymore. I usually use this for my daughter's sandwiches, cookies and for some leftover meals. This is not a paid post by the way. I wish it is. :)