It's been raining cats and dogs. Classes had been suspended since yesterday . I have an option to stay home today so I did. Indulge, indulge. I even postponed other mundane matters like going to the grocery to buy ingredients for creamy carbonara my daughter wants me to prepare this weekend. I can do that tomorrow.
We dropped by Sumo Sam before going home last night. Husband had a good choice ordering vegetable ramen for a somewhat light dinner. That's because he had pistachio ice cream beforehand. Dessert came first. Haha. I had my usual chicken tempura but I just had to have a few spoonfuls of the soup. I'm not a ramen person but it looks tempting what with the cold weather.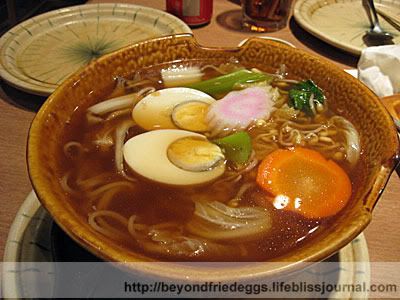 Hot tea is great too after a meal but I don't know why, last night the tea they served is somewhat bland. Like a hot apple flavored C2.
Happy weekend! My first time to join
Food Trip Friday
.
***More food sharing at

Life Snippets

and

Food Trip Friday

.