Yellow Cab Pizza
was the dark horse in the leading pizza chains in the Philippines. That was how we perceived this pizza chain when I was still in the food industry. Surprisingly, there was a steady rise in both awareness and patronage for Yellow Cab from the time it started. The trend showed they were strong in the "wants to be seen" attribute. The image, in other words, is good. People wants to be seen eating there. One would think it's a franchise of a foreign brand but it's not. It's all Filipino. Correct me if I am wrong.
I have since transferred to a different industry and have lost track of what Yellow Cab is doing as reported by our marketing unit and our marketing agency. I have not seen any aggressive expansion of the brand up to this time. Taking it slowly but surely perhaps. Looking at their website though, they already have stores outside the Philippines, one in the US and two in Qatar and three in Malaysia. I have the impression that this pizza store is doing their business strategy quietly but with immense precision. This pizza chain came to be a byword especially with the younger market, from high school to young adults. There is no tri-media advertising as far as I can remember but they are well known among pizza lovers.
The good food speaks for itself. I don't have a picture here but one of the things I love at Yellow Cab is their ice cream. Creamy! I love the chocolate flavor!
My daughter and I prefer their NY Classic pizza, all pepperoni and cheese. Crunchy and not as oily as other pizzas.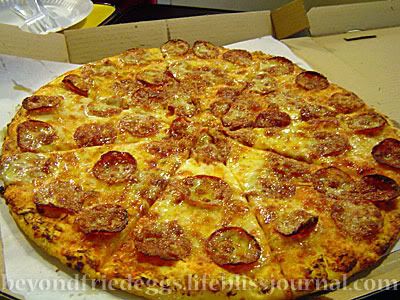 This one has a cute name, twice-baked potato halves. Full of cheese and topped with crispy bacon bits. It comes along with sour and cream cheese.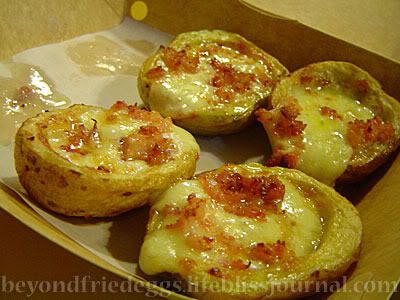 Yummy!
Have a great weekend fellow food lovers!
***Slice it up at

Lasang Pinoy, Sundays

.