Jack's Loft is always full whenever we go to Eastwood. I never had a chance to dine there and check for myself how delicious the cakes are. Friends always tell me I have to try their cakes.
There were not much people around at lunch time at their branch at The Block so my daughter and I decided to have lunch there. We had a pretty good seat near the counter area.
As usual, the chicken fingers is a must. I am impressed because they have a very even breading for all the pieces served to us. They're crispy and still hot even after almost thirty minutes on our table.
Instead of rice to go with her chicken fingers, she ordered a pasta favorite, classic carbonara. It's creamy and there was a generous portion of bacon.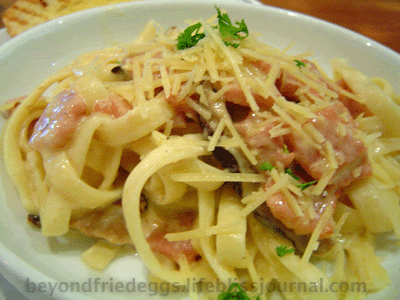 I chose beef stroganoff which was a good decision. Their very tender and juicy. I love its creaminess. Delicious!
Now comes the dessert. I ordered decadent chocolate cake as I was craving for some caramel and chocolate. The presentation is great, very appetizing. But I cannot rave about it. It's a chocolate cake. I don't know if my taste buds on lunch time is any different at any other time of the day. It's good but not great as I was told by many. Worth the money still since it can be shared by two. It costs around P120.00.
***Feast on more food at

Food Friday

.