This is my first time to participate in
Photo Story Friday
. I would love to share my pictures taken during my husband's birthday a few weeks ago. This is a long over due post.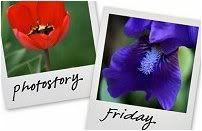 Hosted by Cecily and

MamaGeek
There is no big celebration except that I prepared his favorite, or our favorite,
seafood jambalaya
. Normally we just order this from a restaurant. That was the first time I prepared one. So glad it was good. No left over.
I love cakes so it's a staple in any occasion (or even when there's no occasion) in our home. I'm not that adventurous though. I only have what I got used to having - chocolate or mocha. Boring I know. But husband thought of having Smores instead. It has caramel topping and chocolate everywhere. I did not complain. It was good. :)
We had dinner the night before his birthday at
Fish and Co.
There is not much people at this side of the dining area. I love the warm light and the wooden finish which dominates the restaurant.
I love their Marsala Pizza specifically the crust. It's croissant crust if I'm not mistaken. It does get messy sometimes but every bite is worth it. I'm an onion lover so the generous onion topping is a big plus for me.
My husband is a pasta lover so the best choice for him was fettucine in creamy mushroom sauce. Hmmm, love it too.
As always, my daughter had her chicken tenders with fries with a teeny weeny cupcake as dessert.
A belated birthday greeting post to Daddy! From me and our not-so-little-girl-anymore. :)