This day is "kitchen day" for me. I have been meaning to be a good cook, a good baker for months now. I have always been fond of cooking but got into it sporadically. I will not promise myself anything but I would be very happy if I can pursue this at least every weekend.
I tried this dish at my classmate's restaurant,
Cook Book Kitchen
, and it had been a favorite of mine since then. I shared it with my husband and daughter and they both loved it instantly. It's called
Parmesan Crusted White Fish
. Much as I would want to get the recipe from my classmate, I practiced restraint. This dish is their best seller. I would not want to put her on the spot. Por delicadeza, I did not ask since most recipes in restaurant menus normally have something 'secret' to differentiate the taste. According to her though, they use Blue Tang (dory fish).
I was ready to browse on the web for a recipe of the said dish but it's a good thing the same dish is on Yummy Magazine. Blessing! :) The magazine used salmon. Good thing I have stock of the ingredients at home except for the Parmesan cheese and salmon. So yesterday, I headed to the grocery and added these to my list.
Before and after. Not much difference but I am happy to note I was able to finish this Salmon Casserole little short of thirty minutes. Smells really good.
The presentation is not good. I'm just a newbie in the kitchen. Maybe later on I will be able to master food presentation in my own little way.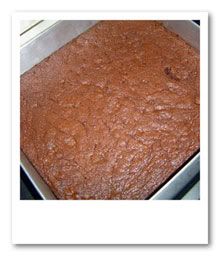 As if I cannot get enough, while overseeing and waiting for my daughter to finish her school assignments before I check on them, I multitasked by baking
Betty Crocker's
Double Chocolate Chunk
. A little mix of vegetable oil, egg and water...I have a cookie mix. The preparation is at the back of the packaging. It was done in twenty five minutes. No sweat. :)
My daughter and I decided not to mold then into little cookies. We just poured the whole mix in the pan and make it like a big cookie. The result as you can see is much like a brownie. But it tastes good. :)
That was how I spent my Sunday. After church in the morning, I spent most of the day in the kitchen. I intend to do this at least every weekend. It was really fun! :)
**I wanted to create a link to Yummy Magazine to give credit where credit is due and to link the recipe for Salmon Casserole. But I don't know, Summit Media gives me an error message.