The summer heat makes one crave for anything that will quench the thirst, anything that will make your body feel cool. My daughter and I decided to have some gelato while going around Power Plant. Piazza Pazzo's counter caught our attention when we passed by the foodcourt. Lined up were so many flavors of gelato. More than twenty I think.
Of course, there's nothing else for me but cioccolato. It's creamy and as you can see, one order can be shared by two. Big serving.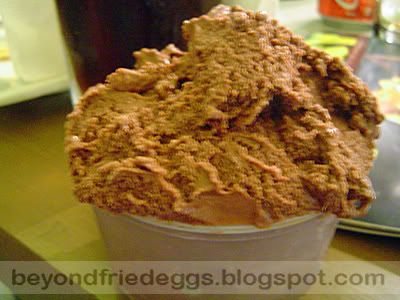 Same goes for their pasta, the serving is meant to be shared by two. I ordered macaroni with cheese, bacon bits and mushroom. I don't know if there is any other secret ingredient here but one thing I can say, the noodles has the right bite - they are soft but they do not slide between my teeth. I love the crunchy bacon bits which go with the pasta.
Since my daughter loves cheese, we ordered their pizza topped with four kinds of cheese the names of which I failed to remember. But anyway, I find that this is not the usual pizza served in most pizza houses. I was looking for the tomato sauce actually or the pizza sauce. The crust is not generously filled with sauce which is how their pizzas are done to highlight the toppings and the crust better. I am a fan of thin, crunchy crusts so this is fine with me.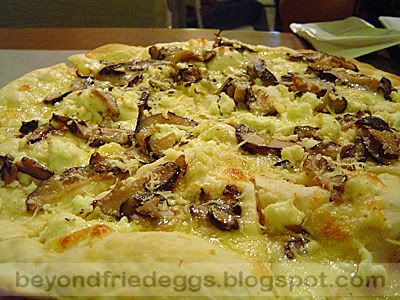 The bread goes with the usual bread dipping - olive oil, balsamic vinegar, peppercorn, probably loads of herbs and spices, and grated cheese. Sometimes bread and coffee are enough to feed my appetite especially if the main dish is served after quite some time (twenty minutes and above). I feel like canceling my order at times like that since the bread filled me up already. :D
***Lasang Pinoy, Sundays
hosts Bread-y or Not for this week's theme.