Often times my daughter ask for a delivery during their supposed break time, break time from playing. Last week she asked for a chicken joy and some ice cream since her friend was in the house. I called up Jollibee, surprisingly, they got my order quite fast this time. Anyway, I need to complete the required P165 (around 4USD) so I thought of adding macaroni salad. Look here, too much green. I still prefer Wendy's but there's no Wendy's near our house.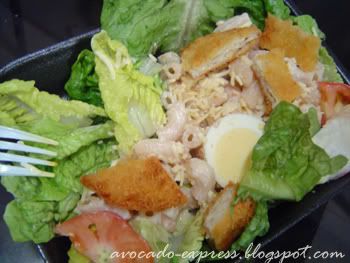 A few minutes before Jollibee delivery arrived, my husband got back with pansit Malabon in tow. She came from my sis-in-law's place and thought of buying a plateful good for five. This is a lot better than the macaroni salad. Had I known he'd buy this I wouldn't have a delivery.
Normally I try to prepare something during weekends - pasta or a new dish I read in Yummy magazine. So the following day we thought of trying out the sundried pesto we bought and prepared some pasta. How was it? Let me just say now I know the sundried tomato from Santi's is a lot tastier than those prepared in bottles.
Curious what weekend snapshots the others posted? Take a peek
here
. :)